Ventilatory Ways of Fote Sawdust Drying Machine
Date: 29-12-2015 From: Fote Machinery Author: Fote Machinery
Sawdust dryer, also named as sawdust rotary dryer, is mainly used to dry agricultural and forestry materials like corn straw, soybean straw, cotton straw, wheat straw, sorghum straw, wood flour, wood shavings, saw dust, ginkgo leaf and mulberry leaf, etc. With wide application ranges, finished products of sawdust rotary dryer can be used for industries like straw briquette fuel, charcoal machinery, wood flour fuel, sawdust briquette and husbandry, etc.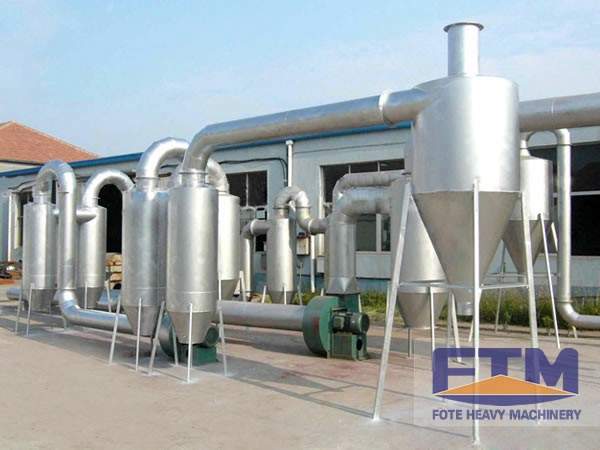 For the traditional sawdust dryer, it has two ventilatory ways named as downstream and upstream. Each has its advantages and disadvantages. For the upgraded sawdust dryer machine, it adopts the mixing ventilation. This ventilatory way is excellent in accelerating the drying speed, saving energy and achieving the even drying effect. As to the installation of sawdust dryer, it has strict requirement toward the surrounded environment like wind scale and shock strength.
As the most basic data to measure the heating energy, the mean annual temperature in the working site is the most important parameter to design and confirm the devices equipped in the sawdust drying machine. Therefore, you should take the temperature changes into considerations when referring to the installation. Being the leader of China mining machinery, Fote Machinery has made the production for more than 30 years. 30 years can make a boy become a man. Similar to that, 30 years can make a small-sized enterprise become the NO.1 brand of China mining machinery.
Interested in the price of sawdust drying machine? Please leave messages on our website or directly email us. We will give you a detailed quotation in the shortest period.