High-efficient Sawdust Dryer of Fote Machinery
Date: 28-12-2015 From: Fote Machinery Author: Fote Machinery
Sawdust dryer, also named as the sawdust dryer machine, is made up of devices like heating furnace, feeding mouth, rotating drum, filter drum, conveying pipe, cooling drum and discharging mouth, etc. For the rotating drum, it lies on the driving rollers. Driven by the dynamo and gearing-down, the drying rollers make the rotating drum move at a slow speed.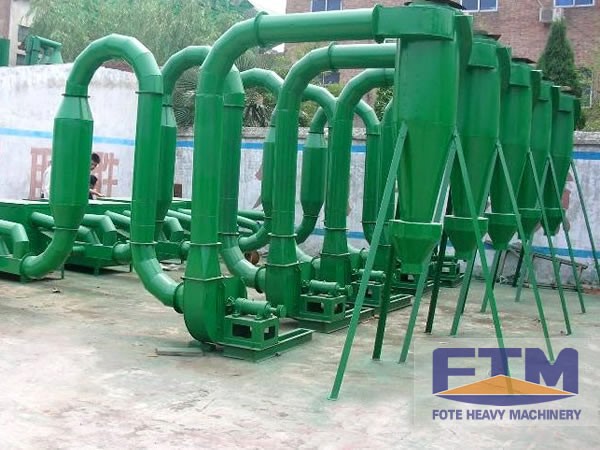 Between the heating furnace and rotating drum, there is a feeding mouth. Inside the rotating drum, there are lifting blades. For one end of filtering drum, it is connected with the rotating drum. For the other end of filtering drum, it is connected with the conveying pipe. In the bottom of filtering drum, there are holes for discharging the slags.
As to the cooling drum, one end is connected with the air blower and conveying pipe. For the other end of cooling drum, it is connected with the discharging mouth. By virtue of the unique and feasible structure, material of sawdust can be fully dried in the rotating drum. Before being fed into the conveying pipe, saw dusts are fully dispersed and half evaporated. As to the lifting boards inside, they can keep out the foreign matters in materials of saw dust and ensure the purity of finished products.
Under the common roles of injection pipe and rotary cylinder, materials of sawdust are gradually boiled and fluidified. Featured in the high thermal efficiency, great working efficiency, easy operation and simple structure, the sawdust drying machine can be a good helper for you.
Click the website to know more about the sawdust dryer of Fote Machinery!