Remarkable Features of Fote Sand Dryer
Date: 19-09-2015 From: Fote Machinery Author: Fote Machinery
Sand dryer, also named as quartz sand drying machine or river sand dryer, belongs to the type of rotary dryer. It is generally suitable to pellet materials with high water content inside, such as river sand, artificial sand, silica sand, yellow sand, mineral sand, mineral powder, grain slag, blast furnace slag, coal ash, coal cinder and so on. Here comes to the features of Fote quartz sand drying machine. Firstly, since it works with the principle of centrifugal drying, the drying efficiency is much higher. Secondly, being equipped with pedal brake, the rotary drum of Fote river sand dryer can stop working immediately.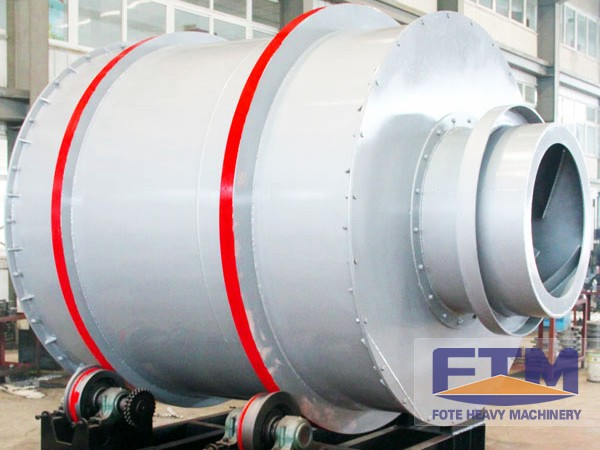 Thirdly, all containers are forged with stainless steel, the service life of Fote sand rotary dryer is much longer than that of counterparts. Fote sand dryer works with the principle of centrifugal drying and hot air convection. To explain in detail, being driven by the dynamo, the belt drives the stainless steel drum to rotate. During the rotating period, most of water in raw material is removed away. For the water remains, they are removed away by the tubular electric heating element, being equipped in the drum head.
After the drying process, if you need the sand dryer machine to stop working immediately, the pedal brake can be a good helper for you. Being equipped with residual current circuit breaker and thermal overload relay, the river sand dryer can timely launch the protective devices if accidents happen. Being the NO.1 brand of China mining machinery, Fote Machinery sincerely welcomes you to visit our official website and leave messages on it. Fote sand dryer price: http://www.ft-dryer.com/products/Sand-dryer.html.