Reasons to Deal Low Heat-transfer of Slurry Dryer
Date: 30-11-2015 From: Fote Machinery Author: Fote Machinery
During the working process of coal slime dryer, the drying efficiency has great relationships with the heat-transfer efficiency of rotary drum. Greater the heat-transfer efficiency of rotary drum, higher the drying efficiency of sludge dryer. In order to reduce the heat exhaustion during the working process of slurry dryer, you should make the heat-transfer ability of rotary drum work under normal situation.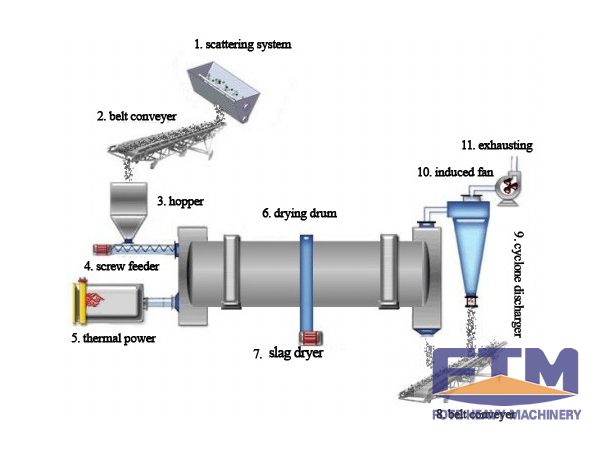 If the ability of heat transfer is quite low, you should blame this failure to the material blocking in rotary drum. For the heat energy, a large part will be returned from the combustion chamber. As a result, the heat consumption will be caused. With regard to the heat in the rotary drum, it is small and can not satisfy the demands of Fote coal slime dryer for drying raw material. As a result, the ability of heat transfer would be somewhat low.
If the ventilation rate in combustion chamber is too high while there are no advanced comburent, heat produced by fuels will be discharged from the funnel cone. If this situation lasts for a much longer period, the burning capacity of coal will be quite great and the frequency to dig materials will be quite hourly. As a result, material blocking would be very serious and heat-transfer ability would be sharply decreased.
Interested in the coal slime dryer of Fote Machinery? please leave messages our official website or directly email us at vip@sinoftm.com. We will reply to you as soon as possible.