Drying Details of Fote Sludge Drying Machine
Date: 31-10-2015 From: Fote Machinery Author: Fote Machinery
The drying process of slurry dryer can be classified into three stages. They are drying at high temperature, water draining at medium temperature and disposing at low temperature. With regard to the drying process at high temperature, it means to control the temperature at about 400℃-600℃. In this stage, a lot of water content in coal slime material are removed away by the rapid heat transfer between coal slime and drying medium.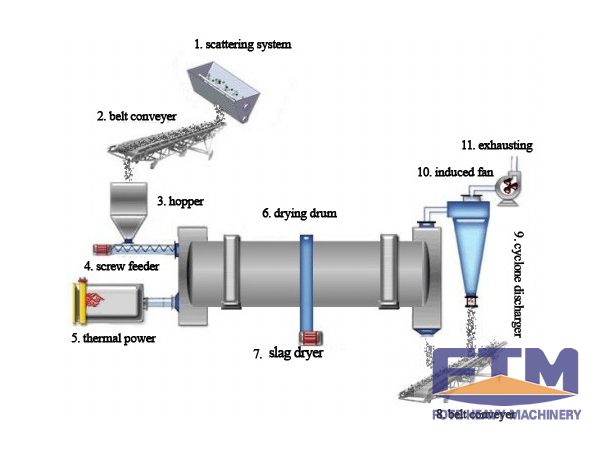 Of course, the thermal value of coal slime do not change. For the water draining process at medium temperature, it works at the temperature varying from 200℃ to 400℃. During this process, the surface of coal slime do not be coked and the thermal value do not have any changes. As to the disposing process at low temperature, the temperature varies from 60℃ to 80℃ . And it is the last process.
All finished products are discharged out. The working process of sludge drying machine is over. The temperature change at the feeding mouth of coal slime dryer is very large. You can control the temperature according to the production situation. The temperature at the center area of sludge dryer should be more noticed. If the central temperature is too high, the temperature change at the air outlet will be much bigger due to the accumulated high temperature.
What's worse, the temperature in the pipelines for heat transfer will continuously increase along with the operation of sludge drying machine. With regard to the surrounding temperature of rotary drum, you should timely deal if there are remains of hot air in the pipeline. Coal slime dryer supplier: http://www.ft-dryer.com