Do's and Don'ts for Installing the Rotary Dryer
Date: 15-09-2015 From: Fote Machinery Author: Fote Machinery
Rotary drying machine, with another name of kiln dryer, is mainly used to dry materials like chicken manure, slag, compound fertilizer, straw briquette fuel, granular fuel and saw dust briquette and so on. If you are always troubled with the above materials, Fote rotary dryer is no doubt the loyal helper. As we all know, for large-sized rotary drying machine, the diameter can reach to 8m and the height can be more than 20m. It is rather difficult to be delivered from manufacturing enterprises to working site. For the large-sized rotary drying machine, installation on site is the most effective. While, there are several points needing to be noticed during the installation and debugging processes for kiln dryer.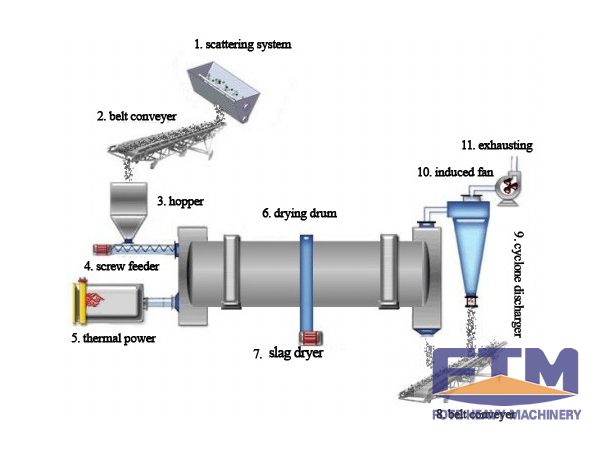 All pipelines welded on site should be smooth and clean in surface without the appearance of dead sector. The insulating layer of rotary dryer, with antiblooming and anticorrosive protective layer being covered, should be solid enough. The manholes of rotary drying machine, with quick-open structure, should be convenient for operation. Effective measures for minimizing the vibration, noise and impact should be well prepared for the operation of draught fun. For the fear of heat loss, all heat sources and pipelines in kiln dryer should be kept in warm.
To ensure the accuracy of installation, installation for key parts like atomization and spray device should have accurate measuring means. Being the leader of China mining machinery, Fote has made the production for more than 30 years. Compared with other counterparts, Fote has three state-level machinery research institutions and more than 50 national patents. Therefore, Fote products are worthy of trust. Kiln dryer supplier: http://www.ft-dryer.com/products/Rotary-dryer.html.