Detailed Solutions to the Failures of Sawdust Drying Machine
Date: 29-07-2015 From: Fote Machinery Author: Fote Machinery
After visiting many users, technicians of Fote Heavy Machinery analyze the common failures and offer effective solutions by summarizing the previous visit experience. If users hear loud pop in the sawdust drying machine, they should shut down the machine first. Reasons for causing the above situation are either blocking or high temperature in sawdust drying machine. With regard to the former reason, users should clear the congestion immediately. To avoid this happening again, users should make daily maintenance well. As to the high temperature, users should lower the fuel supply so as to meet the production demands.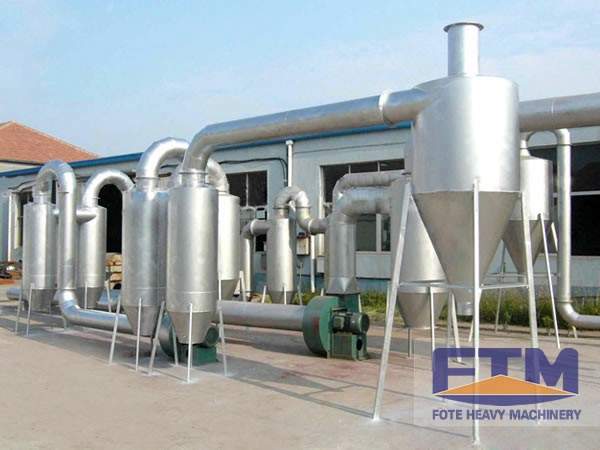 If the situation like rolling ring swings along with the operation of barrel happens, users should mildly fix the concave joints of rolling ring. Many users may meet the problem that the dried products can not discharge out naturally. When facing this problem, users should doubt that the installation is whether standard or not. this problem is called as the most difficult and easiest one. The so called "easiest" means that it can be solved just with the guidance of drawings. While the most difficult means that to deal the problem, users should install the sawdust drying machine newly with the help of lots of manpower.
The distance between bull gear and pinion is destroyed. If this situation happens, the reasons are nothing less than the wearing condition of riding wheel, stopping wheel and pinion. To solve this problem, users should check the wearing condition whether being serious or not, then take relevant measures to deal. Morality rooted, people will be honest; quality oriented, product will be excellent. If you need our products, please click the following website and leave message on it: http://www.ft-dryer.com. We have professional service personnel to contact with you.