Brief Introduction to Fote Rotary Dryer
Date: 17-09-2015 From: Fote Machinery Author: Fote Machinery
Rotary dryer is mainly composed of rotary drum, transmission, arc-shaped reservoir, dumping device and discharging device, etc. The rotary drum with hollow structure is as the passage for hot air and steam. The rotary drum of rotary drying machine, being supported by hollow shaft, is normally welded by stainless steel plate. With one end as the passage of heating stream, the rotary drum revolves at a speed about 4-6r/min when the rotary dryer works. The revolving speed can be adjusted by the transmission part. The pressure for heating steam inside the rotary drum is at about 0.2-0.6MPa.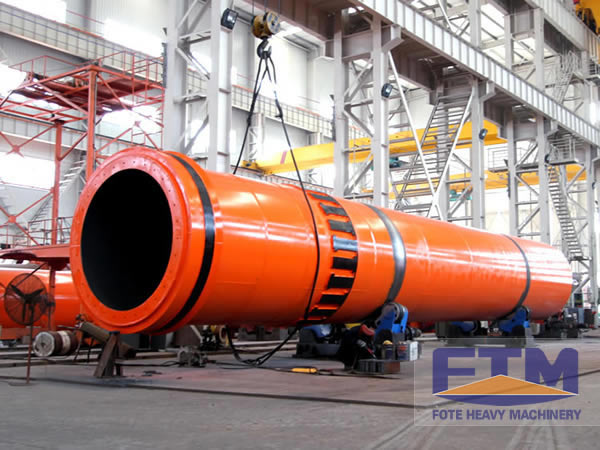 Below the rotary drum, there is an arc-shaped reservoir. For the fear of the spillover of feed liquid, the liquid height of feed is monitored and controlled by two constant head vessels. The film thickness with normal range at about 0.5-1.5mm, is controlled by the film scraper. To explain in detail, the film thickness is resulted by the distance between scraper and drum surface. The distance is controlled by the hand wheel.
As a professional and traditional manufacturer of rotary dryer, Fote Machinery has made the production for more than 30 years. Compared with the counterparts in China, Fote is the earliest one to touch the field of Mining machinery. After more than 30 years' development, Fote has become the NO.1 brand of China mining machinery. If you are interested in some of our kiln dryer or other products, please feel free to visit our website or contact us for more information and price. We are looking forward to establishing long-lasting business relationships with you in the near future. Fote rotary dryer price: http://www.ft-dryer.com/products/Rotary-dryer.html.