Technological Features of Fote Coal Slime Dryer
Date: 29-03-2016 From: Fote Machinery Author: Fote Machinery
With the amazing ability to turn agricultural and forestry wastes into things of great value, coal slime dryer is the most popular one among all dryers. Working performance of coal slime dryer can directly decide the working efficiency of whole production line. Technological size of sludge dryer is closely related with the working performance. The following content will discuss about the technological size of sludge dryer like diameter, length and gradient, etc.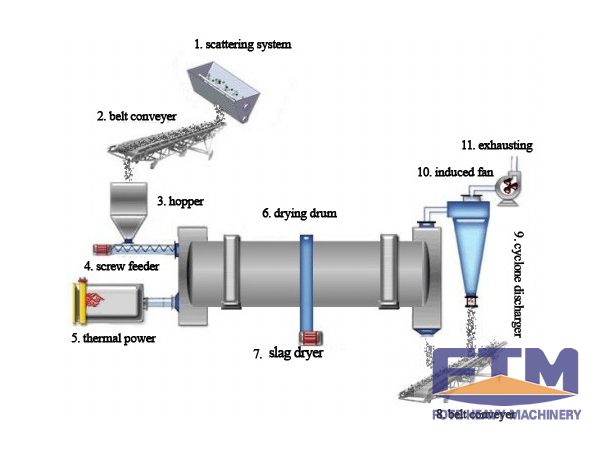 You can count the diameter of coal slime dryer by selecting the suitable airflow velocity. Known as the NO.1 brand of sludge dryer, Fote Machinery has introduced the advanced technologies from America, Germany, Japan and Australia and exported the products to more than 30 countries. Fote Machinery is always doing its best to offer the best products and services for customers.
In general, larger the air speed, greater the working efficiency. By reducing the diameter and improving the coefficient of heat-transfer and quality-transfer, you can improve the working efficiency of sludge drying machine. If the air speed is too high, period of raw materials to be dried by coal slime dryer will be shortened a lot. Therefore, the air speed should have a limit. To dry materials which are easy to cause the dust fly, you should select the air speed with smaller value.
Period for raw materials to stay in sludge drying machine is related with the factors like size, revolution, gradient and flow direction, etc. Interested in the price of sludge drying machine? Leave messages on website to get more discounts!