Role of Cyclone Dust Removal for Fote Slurry Dryer
Date: 21-03-2016 From: Fote Machinery Author: Fote Machinery
If being equipped with the cyclone dust removal, coal slime dryer will be more environmental-friendly. Cyclone dust removal, featured in the low cost and easy operation, is suitable to process the high-temperature gas with high dust content. The following content will discuss about the working principle of cyclone dust removal.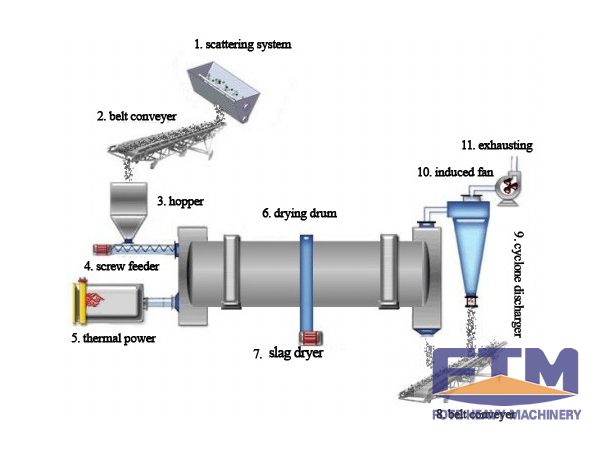 Under the work of draught fun, dusty air flow enters into the volute with a relatively high speed along with the tangential orientation and rotates in spiral movement. Under the centrifugal force, dust particles are thrown toward the ectotheca and rotate downward along with the wall surface. Along with the shrink of cone, dust particles move to the axis and return due to the bottom resistance.
Finally, these dust particles are discharged out through the revolving barrel. Known as the NO.1 brand of sludge drying machine, Fote Machinery sincerely welcomes you to come for site visit and inspection. For the dust particles on the ektexine, they fall into the ash hopper under the driving force of down-flow air.
Based on the principle of inertial separation, cyclone dust remover enjoys the feature of direct ratio between dedusting efficiency and size of dust particles. In general, if dust to be processed are in the size over than 20 micron, dedusting efficiency of cyclone dust remover will vary from 70% to 90%.
Interested in the price of sludge drying machine? Leave messages on website to get the discounts that Fote Machinery prepares for you! Meanwhile, you can get the free books of coal slime dryer on website!