Remarkable Features of Fote Sludge dryer
Date: 29-09-2015 From: Fote Machinery Author: Fote Machinery
Coal slime dryer, also named as sludge dryer, is suitable to dry materials like slime, raw coal, flotation clean coal, mixing clean coal, slag, clay, bentonite, limestone, sand, quartz stone, metal concentrate, waste residue and tailing, etc. The dried coal slime can be used as fuels or fillings for the industries of mining, ore beneficiation, construction materials and chemical engineering, etc. Coal slime dryer is a specially designed machine for drying materials featuring in high water content, strong viscosity and low heating value. Since the interior structure of sludge dryer machine is specially designed, the thermal efficiency is greatly improved. At the same time, phenomena of excessive drying and material sticking can be effectively avoided.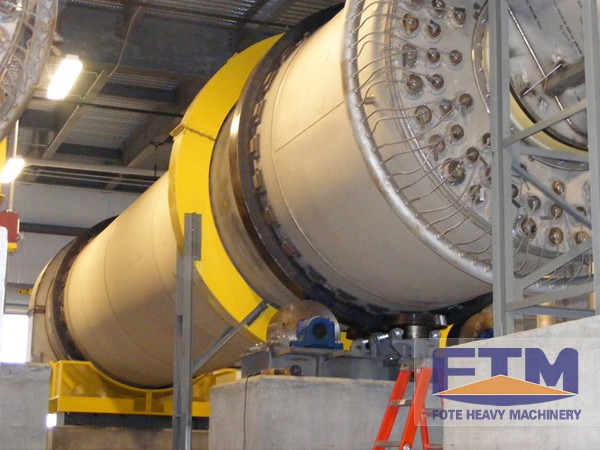 Being equipped with newly-type transmission device, Fote coal slime dryer is more high-efficient and energy-conserving than ordinary dryers. As a professional manufacturer of sludge dryer, Fote Machinery always holds the service tenet of being responsible for every working procedure, every machine and every client. Doing whatever we can to help users save cost and create value is the endless pursuit of Fote Machinery. Since Fote coal slime dryer is equipped with stage purification and dust control system, the acquired green standard is much higher than the national required. In a word, the environmental-friendly, high-efficient and energy-conserving coal slime dryer or sludge dryer is worthy of your trust.
If you are interested in some of our coal slime dryer or other products, please feel free to visit our website or contact us for more information and price. We are looking forward to establishing long-lasting business relationships with you in the near future. Sincerely welcome you to come for site visit and inspection. Fote sludge dryer price: http://www.ft-dryer.com/products/Coal-slime-dryer.html.