Heating Procedure of Fote Wood Chip Dryer
Date: 23-06-2016 From: Fote Machinery Author: Fote Machinery
Wood chip dryer brings more value for the future industrial development. As long as our dryers are more and more upgraded, there will be more and more chances to work with you. As long as we improve the performance of wood chip dryer, you will earn more and more benefits. As long as we make the innovation, the superior value of wood chip dryer will be possibly shown to you.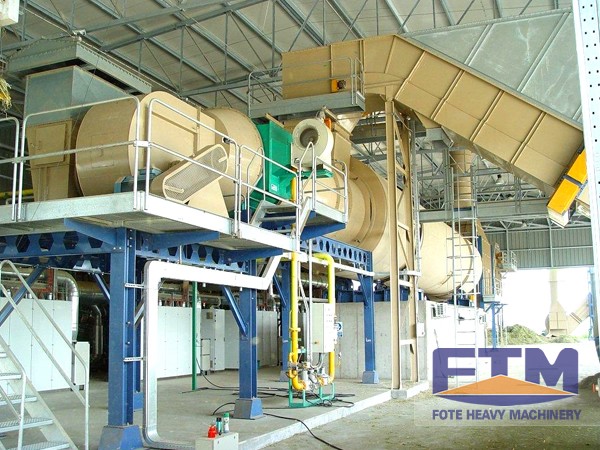 Only good service can get the good reputation. With remarkable features of compact structure, flexible process and small floor space, wood shavings dryer always has space for future production. Inside the three concentric cylinders, lifting boards with different amount and angles are installed. At the ends of every drum, there are guide plates.
Two gear motors on drum respectively drive the two tugs and make the belt revolve around the center. Meanwhile, hot gas coming from the hot air furnace successively enters into the inner drum, central drum and exterior drum and heats raw materials. Since conducting speed of steel plates is faster than that of raw materials, steel plates and lifting boards are firstly heated.
Then, the heat is transferred to raw materials by the ways of convection and radiation. After being heated, raw materials become hot. When temperature reaches to the evaporating speed, water steam is dissolved from raw materials. Along with the dedusting device, exhausted gas is discharged out into air.
To get the quota, pleas click the website and send inquiry to our sales manager.