Key Parts in Fote Wood Shavings Dryer
Date: 07-07-2016 From: Fote Machinery Author: Fote Machinery
Since every part is specially designed and manufactured, wood chip dryer will work inefficiently if there is something wrong with evenly a minor part. Therefore, when using the wood chip dryer, we should be careful to every part. The whole drying work of wood chip dryer is very clean and no-dust. After the drying work, those exhausted gas or materials will be collected by the cyclone separator.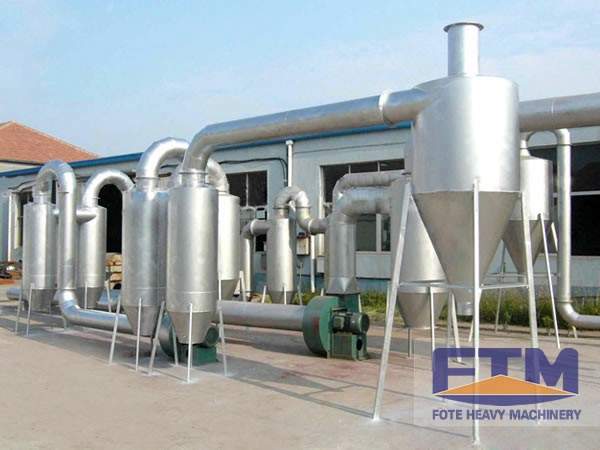 Then, The selection of burner should be in matching with the technological parameters of wood shavings dryer. The main body of wood chip dryer is a slant rotary drum. When raw materials enter into the exterior part of wood chip dryer, they will directly contact with the hot wind and finally be dried. The dried products are discharged out from the discharging mouth.
During the drying process, rotary drum gradually moves and raw materials moves from the higher end to lower end. On the inner wall of rotary drum, lifting boards are installed. They continuously lift up and down raw materials. During the lifting process, contacting area between raw materials and hot air is widened. The whole drying speed is improved a lot.
Different from other suppliers, Fote Machinery designs the lifting boards in X-shape. This kind of lifting boards are good to prolong the staying period of materials in drum, increase the chances for heat exchange between raw materials and hot air as well as improve the thermal efficiency of wood shavings dryer.
Meanwhile, Fote Machinery equips the wood chip dryer with a coal burner. The burner plays the role of heating rotary drum. See website to get price!