Inner Structure of Fote Rotary Drying Machine
Date: 28-01-2016 From: Fote Machinery Author: Fote Machinery
Rotary dryer, also named as rotary drying machine, is mainly used to dry materials like chicken manure, slag, compound fertilizer, straw briquette fuel, granular fuel and saw dust briquette, etc. The drum of rotary dryer can be classified into five areas along with the axial line. As to the first area, it belongs to the high-temperature area with working temperature about 600-800℃. To avoid the shape deformation and reduce the heat loss, we make the drum of rotary dryer as double-layer structure. Being equipped with the wider-inclined stock guides, the first area is mainly for material guiding.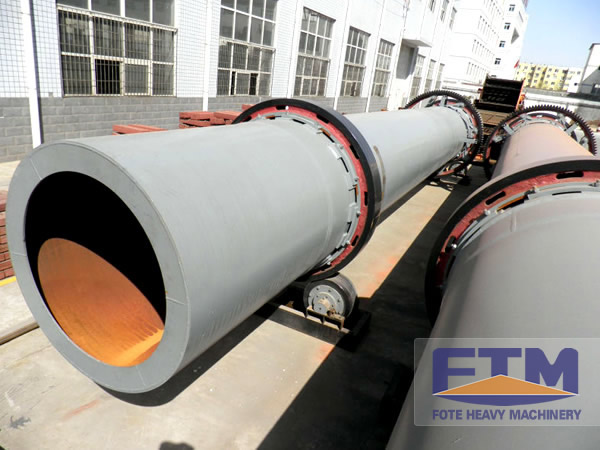 As to the second area, it is equipped with several inclined lifting boards. For the third area, it has the flange on the wall, which is made of live grates. As for the fourth area, it has the circular lifting boards inside, which play the role of cleaning materials. For the fifth but last area, it has no lifting board inside. The role of last area is for controlling the dust pollution.
Integrating the advantages of rake dryer and air-flow dryer, rotary drying machine of Fote Machinery is becoming more and more popular around the world markets. Raw materials, being coarsely crushed by crushers, enter into the drum of rotary drying machine. Under the force of rotating blades, raw materials are lifted up and down, crushed and scatteredly dispersed in the drum. Being fully contacted with the hot flue, dispersed materials are gradually dried.
Interested in the price of rotary drying machine? Leave messages on website to get the discounts. Meanwhile, we have the E-books of rotary dryer for you at free!